Menu- (Click on each menu to open)
~For Your Special Occasion ~
With the natural beauty of the Galtee Mountains and the Glen of Aherlow as a natural backdrop combined with our beautiful courtyard for photographs:
We are the ideal location to celebrate any event or gathering, whether it's an intimate dinner for 2, to a large group.
Christenings, Communions, Confirmations, Graduations, pre or post Wedding parties, Anniversaries, Birthdays, Reunions, Night's Out and maybe 'Just Because!...and anything in-between. We are honoured to be asked to cater for so many of your special occasions.
We're happy to open (*minimum numbers may apply) outside of regular hours to cater for your event/gathering.
*E-mail or Call us on 062 56224 to discuss your individual requirements.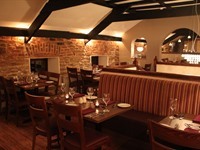 Information to Note
Our main 60 seater Dining Room is located up on the 1st floor (access by stairs only)
2 sections, maximum capacity of 30 per section. Renovated in recent times, to offer a unique atmosphere in comfortable surroundings.
Our ground floor Dining Room is ideal for Private Gatherings, max capacity 20 seats.
For groups of up to 16, tables can be configured in an inward facing square formation, perfect for conversation, very popular indeed and in high demand.
Suitable for customers with mobility issues subject to availability, must be requested at time of enquiry. Suits groups with little ones also (as the bathrooms are located on the ground floor)
Advance reservations strongly recommended- essential for weekends and special occasions.
Most of our menu is Coeliac Friendly- all our Home-made soups and sauces are Gluten Free. Certain dishes can be adapted also.
Please contact us in advance if you have particular Dietary needs, and we will do our very best to accommodate you.
All major Debit and Credit Cards accepted (with the exception of AmEx)
Gift Vouchers
For the perfect Gift, both to give and receive- in any denomination of your choice.
A Ballinacourty House Restaurant Gift Voucher.
Call and Collect anytime- Pay on Arrival. Order by phone- call us on 062 56224 and pay by Credit/Debit Card over the phone, we offer free postage to any Irish address, either to yourself- so you can give the gift in person, or we can post it directly to your intended recipient, with a personalised message if required. Hassle Free. E-mail enquiries welcome also.
It may be possible to arrange local drop-off also, enquire for more details.
For Voucher purchases outside of Opening Hours- please call to the house around the bend to the left after the restaurant entrance- black gates and purple front door.
Parking
*Parking is Limited- Groups, please car share where you can. If the main car park is full when you arrive- don't worry.
Ask your driver (nicely!) to drop you at the entrance- especially beneficial if you or a member of your group is in heels!
Then they can continue on past the restaurant entrance- sharp left at the bend, continue straight past the entrance with the black gates (private)
Take the next left- parking is available on this side (B&B and Camping) Pedestrian access back to the restaurant, under the open Archway, walk across the courtyard, and into Restaurant Archway, from this access point- Main Dining room to the right, Ground floor dining to the left.
(Extreme care needed walking on cobblestones, uneven ground- slippery when wet)
*Please do not park on the roadway or at the edge of Forest.
About Us
A tale of 2 friends, Denis from Bandon and Ronan from Dublin- Upon completion of their studies, Denis moved to Killarney to work, and Ronan split his time between Killarney in the winter, and the summer season here in Tipperary at Ballinacourty. Fast friends after meeting working in Killarney, years later, they decided to go into business together, and started work on the conversion of the old wine bar and small restaurant in the winter of 2000. Doors opened on Easter Weekend 2001. During this time, Ronan & Denis met and subsequently married 2 sisters and now have 2 great kids each.
Ronan married to Mary who runs the B&B and Denis to Patricia, Restaurant Manager and generally a lifesaver in all areas, rom day one- many moons ago. Thankfully the girls came from a big family, and we have been very lucky to have had each member work wonderfully here at one time or another, along with a long list of past-staff who we always love to see, and enjoy keeping in touch with. We believe strongly that our staff are our number one asset, you can be assured that you will be served in a friendly, efficient and courteous manner. It is thanks to them that we have received the Trip Advisor Certificate of Excellence and a large regular customer base built up over the years.
Our regulars will know Martina, Restaurant Floor Manager very well, here for over 10 years- she is a most pleasant and friendly young lady, and we are so lucky to have such a loyal and hard-working person like her on our team. Backed up by a fantastic team of part-time front of house and kitchen staff, Shirley, Kieran, Catherine, Maeve, Aoife, Faustina & Katie, and the McCarthy sisters. We are now in our 16th year of operations.